Wide-format printer Vinyl Decals Direct (VDD) has moved to new larger premises and claims to have become the first UK company to install the Ricoh Pro L4130 latex printer using Ricoh's new fast-drying aqueous resin (AR) latex inks.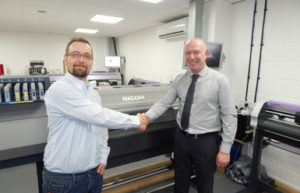 Tanner (left) with Atlantic Tech Services area manager Gavin Wells
The Coalville, Leicestershire-based firm took delivery of the 1.37m-wide machine, which was bought from Harlow, Essex-based supplier Atlantic Tech Services, at the end of September.
The five-staff company then moved to its new 250sqm unit, which is around eight times larger than its previous site – also based in Coalville – last week. It invested £200,000 in the new building plus a further £22,000 in the Ricoh kit.
The 1,200dpi L4130 is capable of printing at speeds of up to 33sqm/hr. Ricoh first showed the device running the AR latex inks in March, at Fespa Digital in Amsterdam.
The six-colour-plus-white, roll-to-roll machine is an OEM version of the Mimaki JV400-130LX fitted with the Ricoh variable-drop piezo printhead technology and a latex inkset developed exclusively by Ricoh, which cures at 60˚C.
Vinyl Decals Direct said it chose the L4130 because of the machine's ability to produce high-quality prints faster than most conventional solvent and latex printers. The business also operates a range of Mimaki printers and cutters and outsources litho printing.
Vinyl Decals Direct managing director Steve Tanner said the device has quickly increased the company's productivity and opened up a number of new business opportunities.
"The Ricoh is absolutely brilliant. The quality, colour depth and gamut of colour is twice as good as what comes off our Mimaki JV33. It's printing twice as fast and there's no curing time with it being aqueous latex.
"We're predominantly printing wraps on it so far, for vehicles and various other things, but there's all sorts going through it."
The company also produces items including vinyl labels, stickers and vehicle graphics for clients operating predominantly in the waste management and health and safety sectors.