Description
Azon Razor Hale
The newest model of Azons UV product line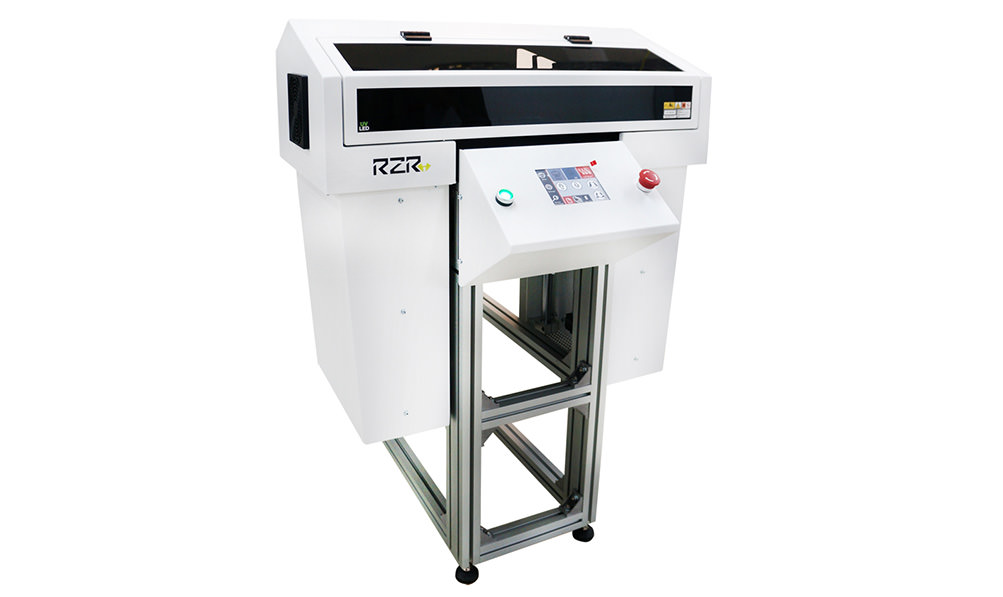 New revolutionary series of Azon's well-known UV product line.
Advanced technology is placing Azon Razor Hale in a superior position in comparison with other solutions available on the market. Always striving for maximizing the power of its machines, Azonprinter implemented Azon Conti option, six specially designed 500ml bulk ink tanks with monitoring sensors that increasing printing capacity to a great extent. The long lasting, energy efficient UV LED lamp generates low levels of heat for printing directly on a wide range of surfaces and three-dimensional objects 300mm wide.
Meeting the increased demands of fast growing market Azon successfully prepared new upgrades to increase productivity and profitability of its solutions. Azon Razor Hale is combining more superior laser auto heights sensor adjustment.
Improved vertical movement achieved with one motor provides more precise, faster and secure operating. Improvements on Azon Conti options have been made as well. New ink recirculation improves effective ink usage and provides more consistent white layer. Ink consumption is reduced to a great extent while less maintenance secures easy and user-friendly usage of Azon Razor Hale.
Azon Razor Hale comes with most complete full-featured software offering different features, tools, and add-ons like: printing up to 5 layers in inline mode depending on resolution, fading and changing the number of used nozzles, creating emboss or raised print up to 2mm allowing customers on that way to print any ADA- compliant and Braille script standard requested.
Azon printer worked closely with the Association of visually impaired people in order to get guidance and parameters for the best and most efficient solution on the market. Azonprinter successfully implemented specially programmed software to convert text to Braille letter which can be printed onto any kind of material.
New UV TurboJet inks which will be available for the new Azon Razor Hale are improving the quality of print dramatically. Vibrant and colorful prints can be expected on any type of material: stone, glass, wood, plastic, and canvas regardless for indoor or outdoor use. Azon Razor Hale is most versatile and complete solution for customers who are ready to meet new business opportunities.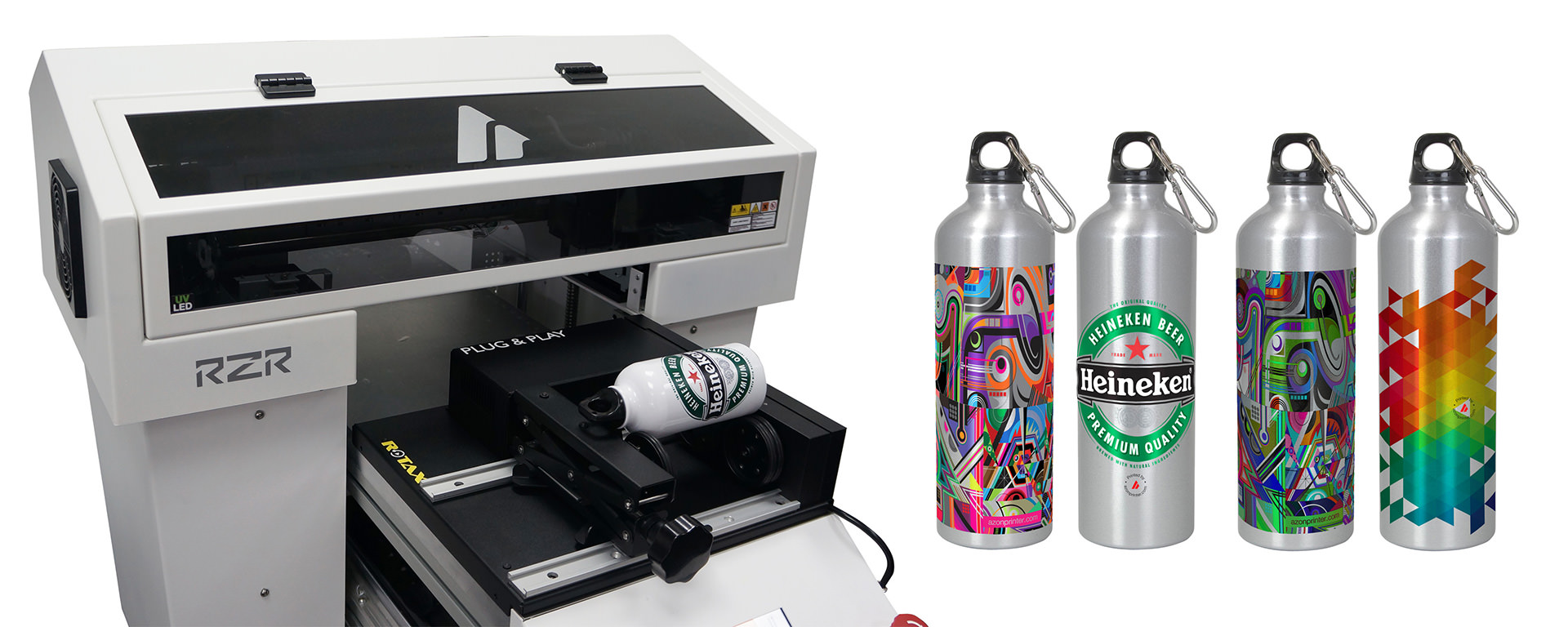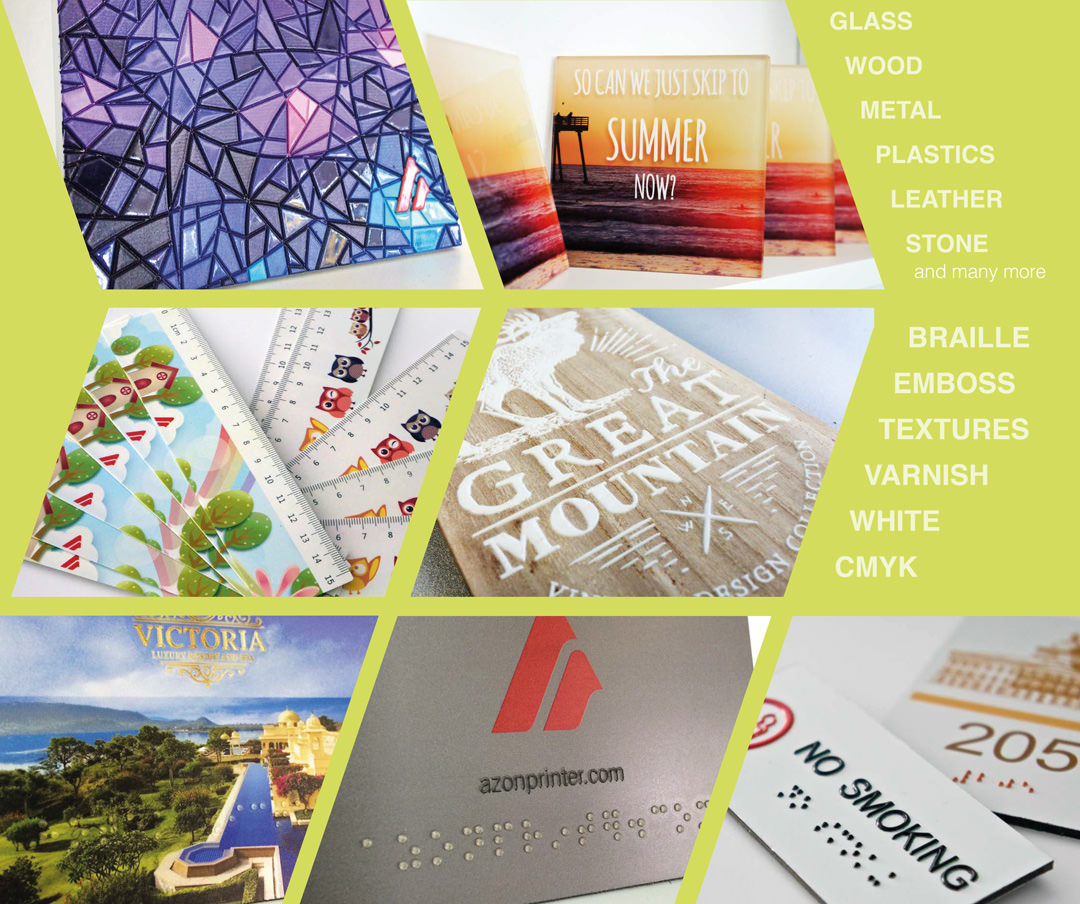 Improved vertical movement achieved with one motor for more precise, faster and secure operating.
New ink recirculation for more effective ink usage and more consistent white coat.
More superior laser auto heights sensor adjustment.
Special head adjustment for printing on cylindrical objects.
Integrated industrial vacuum table included in the price.
Unidirectional print in both direction (L/R and R/L) – faster printing time.
Printing Method
Piezo ink-jet method
Maximum Acceptable Media (WxLxH)
330 mm (13 in.) x 1200 mm (47.2 in.) x 200 mm (7.9 in.)
Weight: Maximum 9 kg (20 lbs.)
Maximum printing size (WxD)
290 mm x 800 mm (11.4 x 31.5 in.)
Ink
C, M, Y, K, W and G; Azon Turbo Jet Inks – bottles, 500 ml
Print Resolution (dpi)
Maximum 2880 dpi
Print speed
720 x 720 dpi / 3 min. 30 sec / full table (290 mm x 800 mm)
Connectivity
Ethernet (10BASE-T / 100BASE-TX, automatic switching)
Printer dimensions (WxDxH)
800 mm x 1450 mm x 1110 mm (31.5 x 57.1 x 43.7 in.)
Weight
112 kg (247 lbs.)