Description
Ricoh Ri 100
Direct to garment 4 colour printer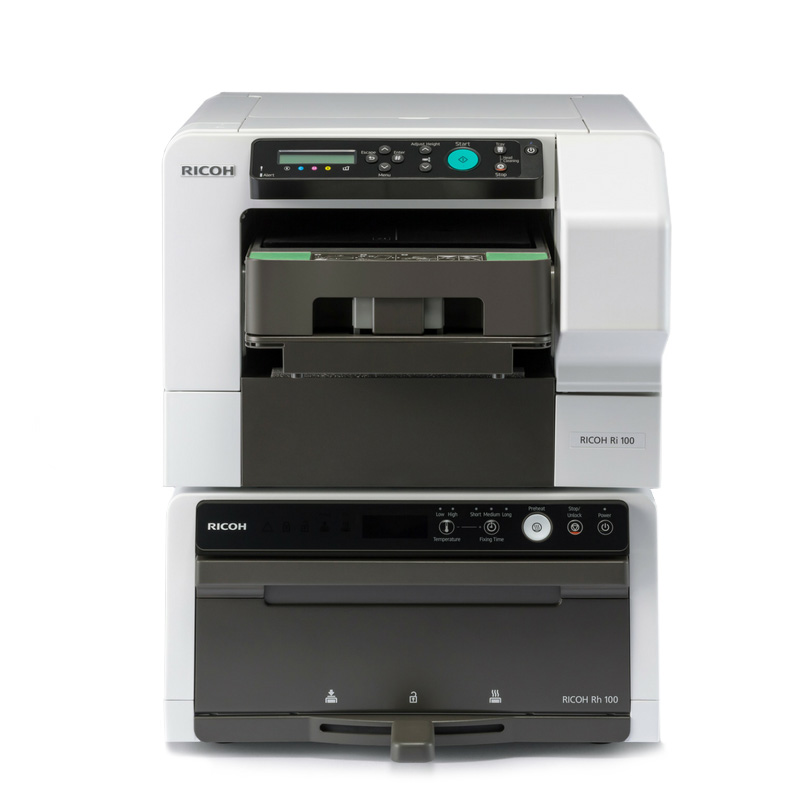 The RICOH Ri 100 invigorates the world of Direct to Garment (DTG) printing with its space-saving design. The RICOH Ri 100 prints designs and photographs directly onto garments using state-of-the-art inkjet technology. You can easily and safely print a wide range of long-lasting products, whether you are a beginner or experienced print service provider. A one-of-a-kind T-shirt or a personalised bag can be printed for your customers to take away immediately.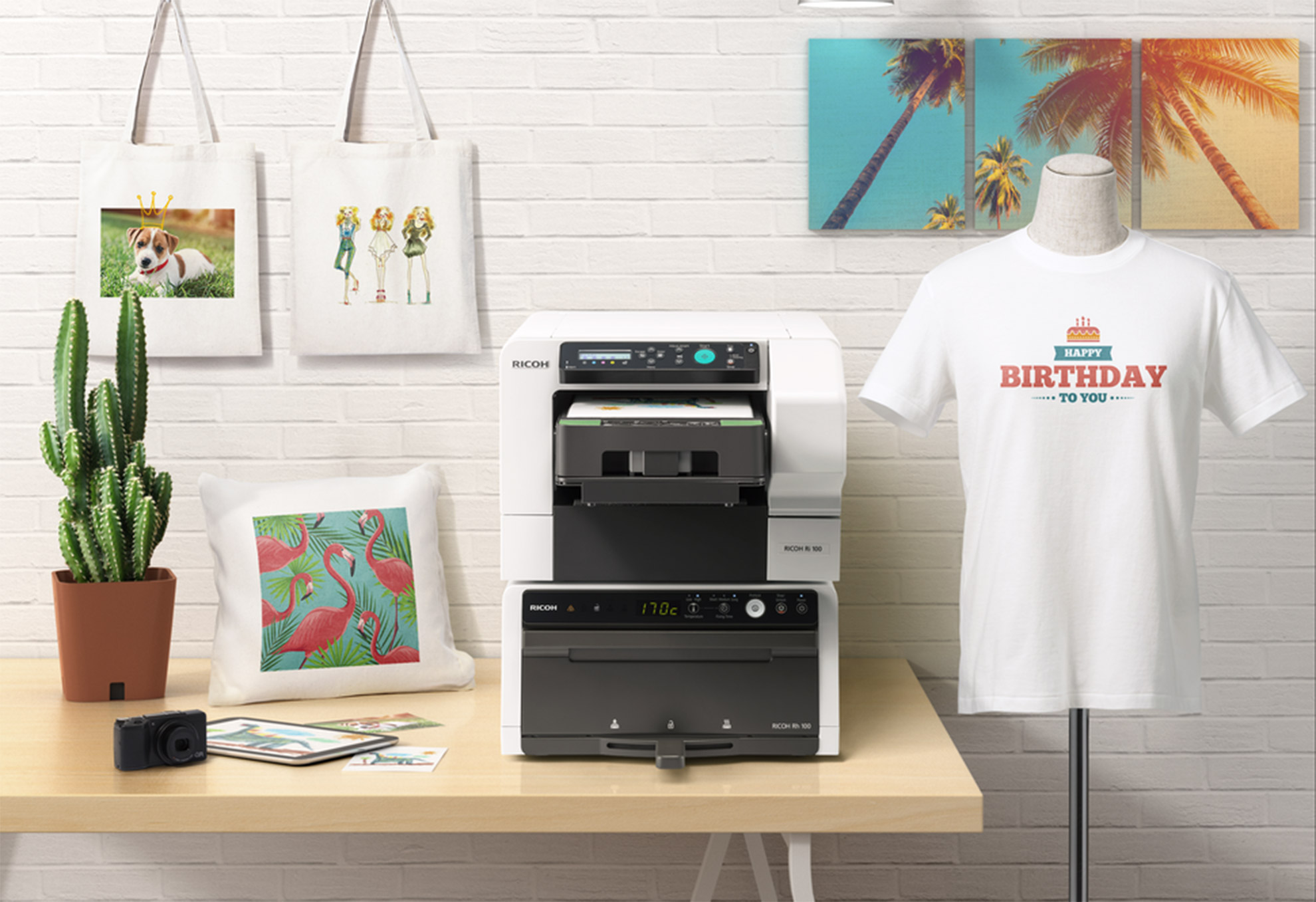 Start your custom garment printing service in a snap.
• Low initial investment required
• A complete solution from one trusted vendor
• Professional high-quality prints
The Ri 100 is opening up new worlds for creatives. Ricoh provides a complete solution for Direct to Garment printing that includes printer and optional heating system. With a fast ROI and an easy-to-use design,
the RICOH Ri 100 ensures you are ready to grow your business. Since all printing is on-demand, you only need to keep a minimum stock of substrates on-hand.
The convenience of in-house equipment.
• Print on-demand
• Simple print workflow
• Offer personalised decorated garments produced in-house
Flexibly respond to the changing needs of your customers. Deliver high-quality promotional and personalised garments quickly and without the need for minimum order quantities.
Extra added value from print services.
• Expand the scope of your printing with innovative printed garments such as photo gifts and souvenirs
• Attract new types of customers
• Your print output is only limited by your imagination –print on fabrics or finished garments such as T-shirts, sweatshirts, cushion covers and tote bags
Expand your business with new creative concepts and applications from one easy-to-use device. Create new revenue streams by attracting new customers and add value for your existing customers. You are in complete control.

5 key advantages of the RICOH Ri 100
Compact size
The RICOH Ri 100 has a small footprint and can fit into a space as small as 40 x 70 cm, making it one of the smallest DTG printers available. The printer and its heating system can be stacked to maximise functionality without sacrificing your valuable space.
High-quality prints
Achieve crisp and detailed high-quality prints for your customers thanks to Ricoh's inkjet technology. Preserve the look and feel of natural fabrics with vibrant colour-fast prints using eco-friendly, water-based pigment inks that will not crack over time.
Easy-to-operate design software
Whether you are an experienced professional or DTG beginner, Ricoh Design Software lets you edit images before printing, with no specialised knowledge or skills required. Even smartphone photographs can be printed with ease.
Unbelievable fast ROI
The RICOH Ri 100 is a very affordable and low-risk investment, providing high value and fast ROI. The Ri 100 makes it more cost-effective to start DTG printing as there are no additional setup costs required.
Excellent operability, safety and easy maintenance
This printer is incredibly easy to use and you do not have to compromise on safety. The intuitive design allows the operator to prepare, print and cure the design safely. Periodic maintenance is carried out through a simple process automatically and semi-automatically by a system prompt.
Printer Type
Direct to Garment printer
Technology
Piezo-electric drop on demand inkjet system
Resolution
600 x 600 dpi
1200 x 1200 dpi
Print Speed
Speed Mode: 1 minute 20 seconds or less | Fine Mode: 2 minutes 30 seconds or less
Printable Area
Standard Tray: 291 x 204 mm | Small Tray: 204 x 142 mm
Fabric
100% cotton, cotton blends with min. 50% cotton
Garment Type
T-shirt, tote bag, sweatshirt, polo shirt, cushion cover
Fabric Thickness
Less than 4 mm
Table Height Adjustment
Automatic or manual
Maintenance Features
Automated and semi-automated maintenance
Dimensions (W x D x H)
399 x 698 x 293 mm
Weight
Less than 25 kg
Power Source
220 – 240V, 50/60Hz
Power Consumption
Active: Less than 35W | Sleep: Less than 2W | Power Off: Less than 0.5W
Operating Conditions
Temperature: 15ºC – 32ºC Relative Humidity: 15% – 80% RH
Warm-up Time
Less than 35 seconds
Supported Environments
Windows Vista
Windows Server 2008/2008 R2, Windows 7,
Windows 8.1,
Windows Server 2012/2012 R2, Windows 10,
Windows Server 2016,
Mac OS X 10.9 or later
Host Interface
USB 2.0 High Speed,
Ethernet 10BASE- T/100BASE-TX, Wireless LAN IEEE 802.11 b/g/n
Network Protocol
TCP/IP
Memory
128MB RAM (std. / max.)