Description
Azon Mirage
Professional direct to textile printer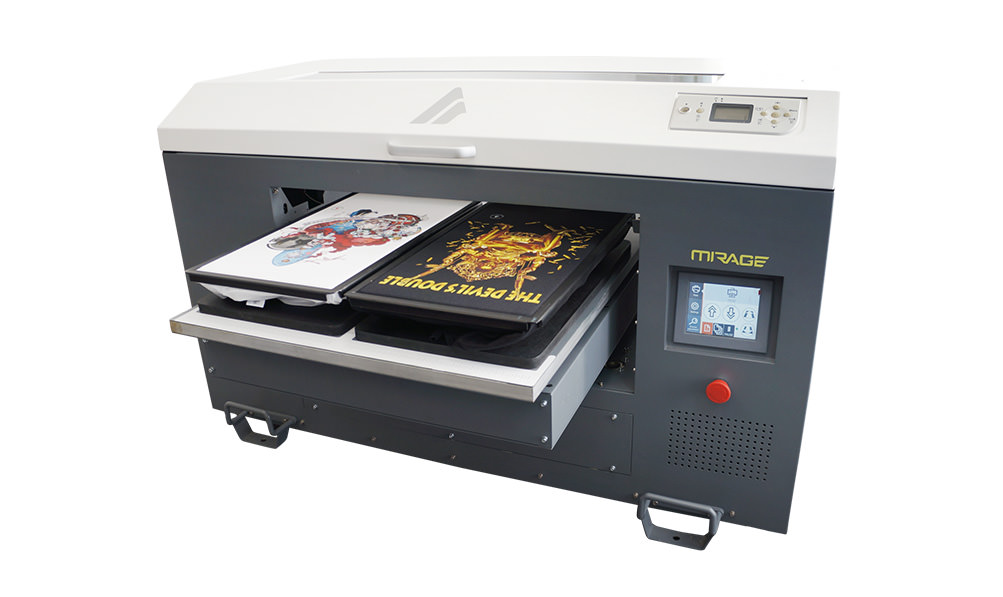 Direct to textile inkjet printer for beautiful full-colour prints.
Mirage features large 600 x 800 mm format which is capable of printing on a wide range of garments such as T-shirts, sleeves, jeans, apron, cloth panels and more. Specially designed for industrial production and large quantities, Mirage has easy exchangeable dual-platen platform technology. It delivers beautiful full-color garment
even twice as faster than before on a scalable printable field area. The new improved LCD touch screen, larger 220 ml ink cartridges and new sophisticated RIP are only some of the new features this machine offers. Unlike the previous generation with belt system, this printer has implemented servo motor and ball screw system, enabling the forward-backward
movement of the printed object with maximum accuracy.
MIRAGE is perfectly adaptive for large scale facilities or even smaller printing applications. With various platens the fabric is fixed inside the frame, before or later cut and sewed. Faster production, more flexibility and high efficiency, you name it – Mirage has it all!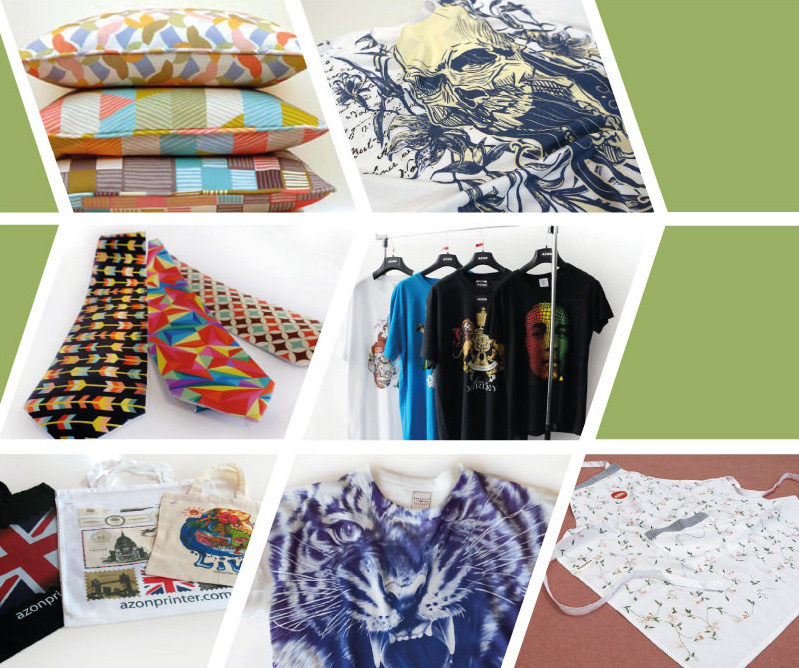 Printing Method
Ink-jet (Piezo 180 nozzles per channel)
Acceptable Media
Width: Maximum 640 mm (25.2 in.)
Lenght: Maximum 1200 mm (47.2 in.)
Thickness: Maximum 100 mm (3.9 in.)
Weight: Maximum 9 kg (20 lbs.)
Maximum printing size (WxD)
Maximum 600 mm x 800 mm (23.6 x 31.5 in.)
Ink bottles
Colour: C, M, Y, K and W
Ink: Azon TEX Inks – sealed, degassed cartridges
Type: TEX 220 cc cartridges
Print Resolution (dpi)
Maximum 1,440 dpi
Print direction
Bi-Directional / Unidirectional
Print speed
up to 30 dark garment / per hour
up to 100 white garment / per hour
Print direction
Bi-Directional / Unidirectional
Connectivity
Ethernet (10BASE-T/100BASE-TX, automatic switching)
Power requirements
AC 100-240 V +-10%, 1.05 A (50/60Hz)
Power consumption
During operation: Approximately 264 W
During standby: Approximately 60.5 W
Printer dimensions (WxDxH)
1350 mm x 1250 mm x 820 mm
(53 x 49.2 x 32.3 in.)
Weight
230 kg (247 lbs.)
Requested environment during operation
Temperature: 20°C ~ 30°C (68°C to 86°F), (22°C / 72°F is recommended)
Humidity: Relative Humidity 45% ~ 80% (no condensation)
Requested environment not operating
Temperature: 18°C ~ 30°C (64.4°F ~ 104 °F)
Humidity: 40% ~ 80% RH (no condensation)
Requested environment dust level
General office level

Accessories
Power cord, Ethernet cable, User documentation
Rip Software
Azon Rip